Prussian Cadenza
A Journey To Liberty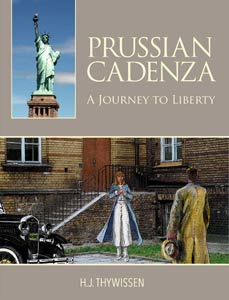 About the Author
H. J. Thywissen lived through the second world war in northwestern Germany. He emigrated to the United States, earned a master's degree in chemical engineering, and was an engineer, consultant, and businessman in Houston, Texas.
His wartime experiences and the experiences of his wife Maya, an East Prussian, along with the experiences of their family and acquaintances, led him to an interest in Königsberg's fall. This novel is a result of his extensive research over six years, in the field and in archives.
Available on Apple Books and Kindle:
Historical Fiction, set around World War II, in East Prussia, Germany, and the United States
Look at a map of Europe today. There is something odd about it: Where is Königsberg, the home of philosopher Kant, author Hoffmann, and mathematician Hilbert? In fact, this former capital was erased from the map of the world in 1946.
What happened to the people who lived there? Where did they go? Who were they? This is a story of one family who lived through the demise of a proud country, of whose 2.5 million pre-war German inhabitants, almost none remain today in their ancestral land.
Prussian Cadenza is a romantic historical fiction, about two characters whose survival tests their love and challenges their values. Gisela is a successful doctor from a wealthy family. Jonas is an unconventional engineer, studying at the Albertina university. During the war, he opposes a totalitarian regime using whatever means necessary, yet discovers that treason and deception bring traumatic moral cost. Gisela, in all her perfection, finds she owes her survival to his flaws.
ISBN: 978-0-9859060-1-6
Subject Headings:
FICTION / Historical
HISTORY / Europe / Germany
HISTORY / Military / World War II